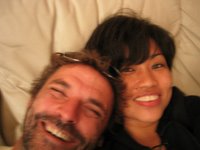 S
o you've heard all about why interracial relationships are difficult, right? So I don't have to tell you anymore about it, yes? Well, I just gotta.
If you absolutely have to marry someone from another country, at least make sure he comes from somewhere they speak the same language as you do. That way you don't have to suffer a 30-minute argument because you and your husband are going out for dinner, you've put on mascara and high heels that's how much you're looking forward to the evening, you've even sprayed on some vanilla perfume because you know he loves the scent of this sweet stuff, and then you ask him, "So where do you want to eat, honey? Cafe Bouzigues or should we try someplace new?" In response he looks at you in what you will very soon interpret to be a bored manner and says, "You choose. I don't care."
I. DON'T. CARE.
You think about that. Allow the words to bounce around in your head for a bit. And then, a full minute after, newly-married, sensitive you, shrieks, "You don't care?!?!" You repeat the noise one more time, and then continue. "We just got married last June and already YOU. DON'T. CARE. ?!?!" You're not done: "If you don't care, then why are we going out anyway???!!!"
It takes 10 minutes of you sulking, not saying anything, and him trying to make you stop pouting, and another 15 minutes of you both discussing the nuances of language before man and wife finally figure it all out.
Pierre tries again. "You choose," he begins slowly. "I'd like to eat at Cafe Bouzigues, but we can also try another restaurant if you want. I. DON'T. MIND."
P.S.
Also try to look for someone who doesn't come from a country with such a thriving and independent-minded film industry that many of its citizens know nothing about Hollywood movies.
Me, at the film rental shop: "Hon, I heard this is a good movie, do you want to get it?"
Pierre glances at the DVD jacket, looks at me funny, and smiles: "What are you planning for tonight?"
Me, not getting it: "What do you mean?"
Pierre looks at the title of the movie, examines the pictures of a sweaty Halle Berry and Billy Bob Thornton in a
kamiseta
, then taps his finger against the lettering on the jacket that proclaims, "Monster's Ball." He says: "This is a kinky movie, no?"